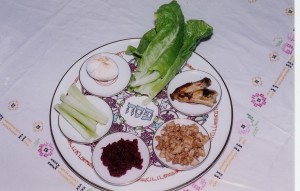 C'mon let's be honest. Who has time to write between Purim and Pesach? There's so  many far more urgent things that just have to be done around the house.
Well – yes and no.
No specific goals
I don't set myself goals for writing and completing essays and articles between Purim and Pesach – but I certainly  make time for pre- writing because I get so many ideas at this time.
Most of  the articles  and essays that I hope will be published next year at this time,  have their beginnings now.
Tips on cleaning / time-saving / shopping / cooking/.
Essays about Pesachs past from my childhood , early marriage, with little children etc. Stories of my parents'  Pesachs in pre Holocaust Europe
Priceless comments little kids say when they see their mum crawling under the bed – all of these come to mind while I'm busy scrubbing / clearing/ sorting and cooking and if I don't 'do something' with these ideas they'll all be gone by the time the  chag starts.
Keeping track of ideas
So how can you keep track of these ideas as they come without having to take a break from the cleaning/cooking?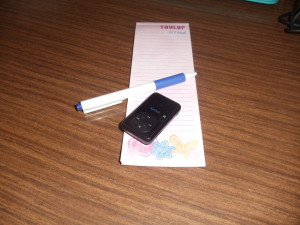 Easy –  keep an MP3 nearby or, even better, in your pocket or attached to your clothes and as you think of something just record it. Or, have a notebook and pen in your pocket so you can make notes of anything and everything as they occur to you.
Try and find ten minutes each night to transfer your  notes and recording onto the computer, otherwise, if you're like me, you might never be able to trace those gems of wisdom in a few weeks time.
Once you start cooking make a note of all the little things you want to remember for next year. Did you grossly over buy eggs and have 6 trays out of the twelve you bought still sitting there? Did you have to run out and buy more sugar /  chocolate  in the middle of a recipe because you'd underestimated the amount you need?  Did you find a great substitute for matzo meal when you  had no-gebrochts visitors for the first time?
Making a note of all these glitches will help your pre-Pesach prearations next year and could make a good basis for an article.
Don't forget your camera
You might enjoy taking before and after photos of the rooms you're cleaning ( the 'before' ones are embarrassing but the  'after' ones make me feel so good). With digital photography today not costing a cent I take photos all the time everywhere just to keep a stock of my own photos to save  me searching the web for 'free' pics to accompany  articles.
Do you have any ideas  for keeping the writing juices flowing while preparing for Pesach. Please let me know in the comments below.